letter one
welcome to gold/dust.
by: uma ramiah
This has been knocking around in my brain for ages. A simple, monthly note to your inbox highlighting and celebrating the creative work of women, non-binary and trans people of color. There's a lot of melanated genius out there, and it's calling for our eyes.
This'll be about unearthing the art and culture and stories and music that feel important - and representative - to me, and hopefully to you. Just a little joy, magic and irreverence to your inbox every month.
Our changing world hasn't seen us well-represented, but it's most certainly waking up. I used to feel endlessly frustrated by whose writing was published, whose food was praised, whose art was celebrated, whose output was amplified. Now feel a little more seen. And educated. And a bit more whole. Not to mention represented (shoutout Ilhan, Alexandria, Rashida, Deb, Sharice, Jahana, Ayana).
So here I am, doing a little amplifying myself.
Read on and see what you think. Write with thoughts. Tell your wonderful friends. As rough around the edges as this will be (as are most of my favorite things), I can't wait to write to you all, a little bit, each month.
xx uma
morenita/ Look at this woman! I found her in stunningly gorgeous Mexico City and fell in love with her energy, her style, her business: Morenita Experience (morenita meaning brown girl: ayyyy!!). Cristina Lugo has mashed up a lifetime of working in fine dining, hotels, travel, and art (and a contagious zeal for the finer things in life) into the design of a luxury travel service that celebrates, honors, and illuminates the unbelievable depth and elegance of Mexican culture.

I wrote all about Cristina + Morenita here.
in the wild/ I've been following Cali Wolf for some time, another brilliant voice for brown girls. She outlines clearly what native communities are facing in a society that continues to try to render them invisible. And she's a spokesperson for the most excellent Native Women's Wilderness, an organization sharing stories and images of native women spending time in the wild, reclaiming their spaces and places. Indigenous Women Hike does similar work, also brilliantly, calling it "Healing through our inherent connection to the land." Walk on, beauties.
how not to travel like a basic bitch/ Another new fav on Instagram. Kiona manages to find and uplift the most important, yet woefully overlooked, voices in travel and culture. And she's irreverent, informed, and fierce in her defense of them. Think: Life In Cuba Is NOT 'Stepping Back Into Time, or Screw your Asian Tourist Stereotypes. She builds up the people around her, and her insta stories are a master class in education via social media. Her writers have widened the eyes of this most jaded traveler ('cuz in the end, we're all basic). Start with the most excellent Traveling While Native series and go from there.
elaine/lindsay/serena/ Elaine Welteroth took over at Teen Vogue in 2016 and turned it into something gorgeously relevant. The equally brilliant Lindsay Peoples Wagner took over from Elaine in 2018 and put our living legend Serena on her first cover. Just look. And the article sings! Read it here.
(Pre-TV, Lindsay collected an edifying set of thoughts on "What it's it really like to be black and work in fashion.")
radhika/lena/ Meanwhile, the Indian-American editor Radhika Jones took the reigns at Vanity Fair at the end of 2017, choosing the incomparable Lena Waithe for her debut (her work on Master of None and The Chi is such fresh, cool air. Opening line from the VF piece: "If you're lucky enough, you are born during a moment in time when the world is ready for the change you're bringing. So all that's left for you to do is your work."
yalitza/ Speaking of covers: Yalitza Aparicio of the film Roma (now on Netflix) is the first ever indigenous woman to appear on the cover of Vogue Mexico. "My skin, very Mexican, very Oaxaqueńan and very human," she says. "Certain stereotypes are being broken: that people with a certain profile can be actresses or be on the cover of magazines." How breathtaking. And about time. Looking your way, American Vogue.
"I remembered watching, almost hypnotized, as my mom hovered over our steel kitchen sink, pouring steaming liquid from one cup into another, lifting it as high as possible. She was mixing bitter black tea with velvety condensed milk, popularly known in Malaysia and Singapore as "teh tarik", or "pulled tea."
- Natalie Pattillo
the real tea/ I'm trying to remain chill about this story from Healthy-ish but... failing: it's everything a displaced Malaysian heart could wish for. Teh Tarik tastes like home: I remember my pops pulling it back and forth over our sink when I was small, spilling not one frothy bit. I'm eyeing tix to NYC as we speak, itching to visit the Malaysian chefs Moonlynn Tsai and Kyo Pang for a meal at their new (and celebrated) spot in Chinatown, Kopitiam. Good riddance, Fatty Crab.
spice world/ Kitchn published a list of "The 10 People We Have Our Eyes on in 2019" [all little food geniuses]. Most of them I already stalk faithfully on the 'gram, including #1, Nik Sharma, who I door-stopped in Oakland earlier this year (his debut cookbook Season is a whole BOP: the gorgeous story of a queer immigrant finding his place through food). Also listed: my food queens Carla Hall, Kristen Kish, Sophia Roe, Vallery Lomas and the infectiously joyful Samin Nostrat of Salt, Fat, Acid Heat. The "celeb" food world is looking so much more well-seasoned these days.
acb/ Ashleigh Nicole Tribble (Insta bio: 💕 Intersectional feminist. Cultural Commentator. Steeze Slut. Gordita. Brooklyn Bitch. 💕) does not have time for our basic bullshit. She's here to challenge our every colonized thought about human bodies + sexuality + fashion: her commentary has reframed my thinking. ACB's beautiful vulnerability shines through, along with the many layers of a human surviving a world that rejects "non-conforming" bodies and voices. It makes her all the more powerful. Follow her. Leave your tired concepts behind.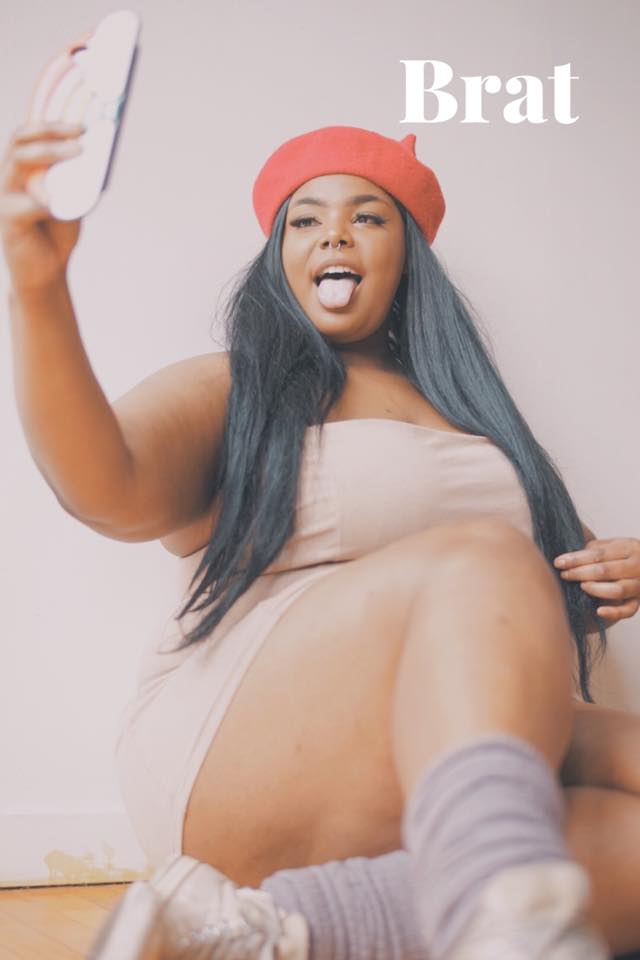 alok/ Meet another framework burner. The Texas native, poet, performance artist, fashion-plate and gender non-conforming wonder Alok Menon moves through this violent world with such a sartorial and spiritual boldness. Their online presence angers the fragile masses - Alok puts up with terrible online abuse, but never stops creating (or self-caring). "What feminine part of yourself did you have to destroy in order to survive in this world?" they ask. Find Alok's work here.
nadine/ I struggle with a bit of a love for fashion. Is it impossible to find quality and joy in pieces that say something, but don't trash the earth and the people who make them? My dear friend Nadine Farag to the rescue with One Who Dresses: her careful, comfortingly heart-focused, truly brilliant consideration of what we wear. Start with her delightfully illuminating selfie series, then stretch your ears with her turn on the very good Conscious Chatter podcast. Nadine's taken a sabbatical to open the most beautiful bakery in America, but here's hoping she'll be back on the fashion beat one day soon.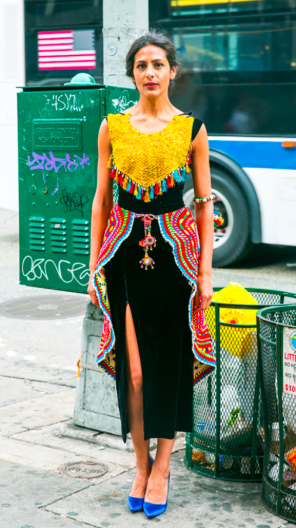 (header and footer illustrations by the brilliant @bydivya)